Basement, Foundation & Crawl Space Specialists in Northern Pennsylvania and Western New York!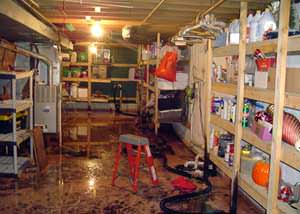 Why Fix Your Basement?
If it's worth owning a home that has a wet basement, then it's certainly worth fixing it!
A basement represents an entire floor of your home -- one that can be used as storage, or can be fixed to add an extra floor of living space. Eliminating moisture will help you control mold, will eliminate musty odors, and will help you to preserve your home.
Whoever buys your home will expect the basement to be dry and clean. If it's not, the house will either need to be discounted by 10-20%, or it may not sell at all!
Waterproofing Specialties is an independently-owned and operated quality basement waterproofing, crawl space encapsulation, and foundation repair business.
We have a great reputation in all the local communities we've worked in. Check out our customer testimonials and referrals to see who's thrilled with our work in your area!
We can examine your leaky basement, discuss any concerns regarding water in basement and provide you with options on the right solution for your basement leaking problem.
If you'd like a free, no obligation estimate for your basement, crawl space, or foundation problems in PA or NY, sign up for a FREE Estimate and Inspection.
We answer our phones from 7AM to 8PM, Monday through Saturday. Call us today at 1-800-606-7137 to speak with basement and crawl space experts and schedule a free estimate and inspection!
We are members of BBB Reliability Program!
Basement & Crawl Space Waterproofing in Pennsylvania and New York is our business, and it's what we do best!
With over 24 patented products to choose from, we have excellent solutions to all types of basement water problems in cities of Pennsylvania like: Emporium, St Mary's, Ridgway, Johnsonburg, Bradford, Port Allegany, Kane, Smethport, Clarion, Mill Hall, Avis, Brookville, Reynoldsville, Brockway, Coudersport, Galeton, Warren, Youngsville & New York like Cuba, Wellsville, Franklinville, Salamanca, Weston Mills, St. Bonaventure.
Whether there is water coming through the walls, floors, floor wall joints, cracks or if you just want to eliminate the damp, musky odor, we can help with an effective and reliable solution. Explore our web site and learn more about topics like why basements leak, products for basement waterproofing, crawl space and foundation repair.
Crawl Space Vents, Vapor Barriers, and Waterproofing from Rayne to Foster Brook, PA
Installing Crawl Space Vents, Vapor Barriers, and Waterproofing Systems in Pennsylvania saves energy, adds storage space to a home, and removes that damp, musty odor in your crawl space.
At Waterproofing Specialties, we use the best crawl space vapor barrier on the market - the CleanSpace crawl space vapor barrier system. With a 25-year warranty, fast installation, and attractive appearance, there's nothing like it!
Basement waterproofing with great customer service is hard to find. We pride ourselves on being there when you need us! We'd be happy to make you our next satisfied customer!
Looking for a price? Get a no cost, no obligation free estimate.